This NOT another cookbook.
This is your at-home cooking school.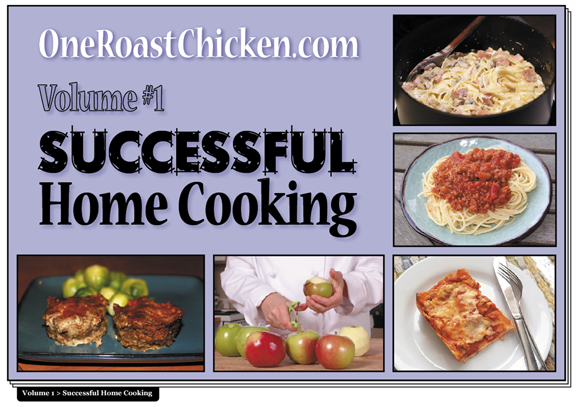 Full-colour, step-by-step cooking lessons
delivered right to your kitchen.
---
Testimonials
"As the President of Global-Fitness.com for the last 11 years, I've seen a lot of recipe books and diet plans. I have to say, "Successful Home Cooking" by OneRoastChicken.com might be the best I've ever seen. Yes, the recipes are healthy and delicious ... but what makes it so much better than the rest is the crystal clear color photos and the step-by-step, fool-proof instructions. You just absolutely cannot go wrong and I highly recommend it to everyone!" -- Chad Tackett, www.global-fitness.com
"I tried your Roast Chicken with Rosemary ... to quote from a fast food chain it's 'finger licking good!' My family loved it! -- Elmira (Malaysia)
Kris writes: "My boyfriend Glen is cooking your tandoori chicken as we speak! We negotiated a haircut for him in return for a home cooked meal [he would buy the ingredients and cook the recipe of my choice] and dishes done and everything. I think we will make a ritual of this..." -- Kris (Montreal, Canada)
Glen writes later that night: "Very easy instructions. Completely fool-proof recipe. I especially liked how conversational the instructions were. And the chicken was nice and tender." -- Glen (Montreal, Canada)
"I love the pictures! I made the roast chicken and had a friend over for dinner, and it was totally successful and delicious!"
(T. Williamson, Georgia, USA)
I really should enter therapy because of my meatloaf and grisly bologna experiences as a child. I made your meatloaf tonight, Shelley. It tasted unlike any other meatloaf I have ever eaten in my life ...... GOOD ! It was more like paté than the chunky dry square hamburger I usually concoct ...

I got a little worried when I started your recipe – it started off really smooshy and then all of a sudden it all glued together like really light bread dough. Must have been a combination of some sort of chemical reaction, patience, and following the recipe. I have always balked at the idea of smothering meatloaf in ketchup – but your "spicy" ketchup has a little more class. And it worked for the potatoes too.

I like the details you give: the REASONS for doing things and EXPLANATION of why you do something. (Like don't reheat in the microwave unless you want to eat sponge.)

I can't wait for leftovers tomorrow and for more recipes.

-- Priscilla, (British Columbia, Canada)
---
Table of Contents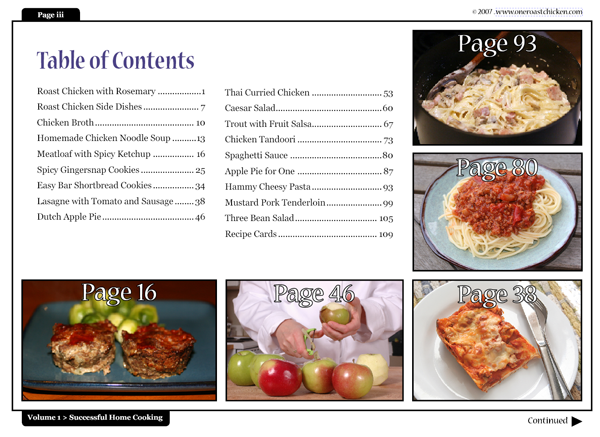 To see beautiful colour images from each lesson, click here.
---
Order your copy now!
Volume #1 Successful Home Cooking includes a full-colour PRINTED version of your lessons, all 122 pages. Coil bound so it's easy to flip pages and turn it to the right place. You can have the book right there on your kitchen counter.

GUARANTEE: I'm happy to offer you a 60-day full money back guarantee, no questions asked, no problems, no hassles. If you receive the cookbook, make the recipes, and decide it's just not for you, you can send me back your book and I'll happily return your cash.
| | | |
| --- | --- | --- |
| Print Version: Successful Home Cooking. This $95 value is now available for $75 CDN (plus shipping). | | |
| | | |
| Electronic Version: Successful Home Cooking (PDF file only; the print version will not be shipped to you). $45 CDN, no shipping. | | |
---
Try the first lesson for free
To show you how this book can help you,
let me give you a free sample
of the kinds of cooking lessons I create.
Recipes are straight-forward, no nonsense, and super easy to follow. Everything you need to know is there.

I walk you through the entire recipe, with full-colour photography to show you exactly where you are.

Simple descriptions? Yes!

Regular grocery store ingredients? Absolutely.

Even if you've only ever used your stove as a storage unit before, we're here to help!

Recipe 1 in the collection is for Roast Chicken with Rosemary. This lesson is 8 full pages, containing a shopping list, required supplies, the price per serving calculations, and a detailed explanation of what kind of chicken to buy (and why) and how many people you can serve with this meal. This PDF download contains 14 full-colour photos... See the sample page below ...

Each step is so detailed that even if you're a beginning cook, you'll be a great success! Your friends are going to say "Did you make this? You're the best!"
This is from page 4 of the full, 8-page illustrated recipe